Contact us
Mamaison Residence Sulekova Bratislava
Sulekova 20
Bratislava, 811 06
Slovakia
Show on map
Where to find us
Mamaison Residence Sulekova Bratislava is located in the historical centre of Bratislava, the capital city of Slovakia. It takes around 11 minutes to walk to Bratislava Castle and the Presidential Palace, and about 18 minutes to reach the Danube. Laurinská ulica with many shopping opportunities is 1 kilometre away.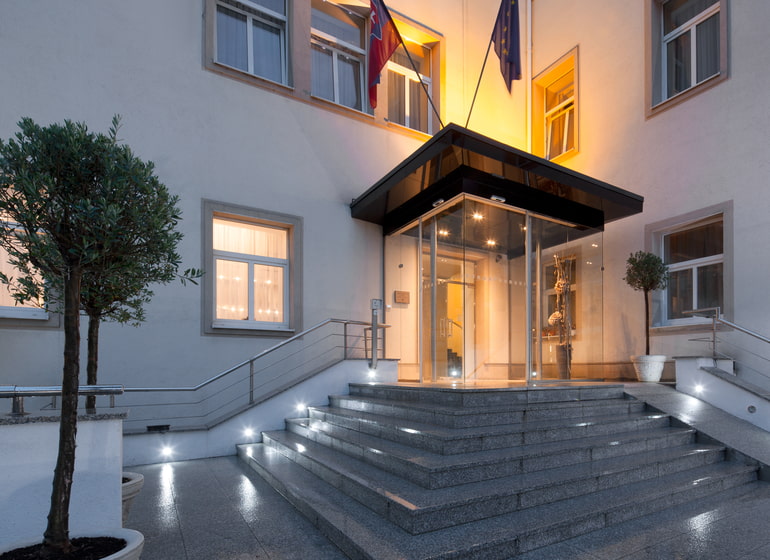 Flights to Bratislava land at M. R. Štefánik Airport, which is around 12 km from the hotel. If you arrive by train at Bratislava main railway station, it's about 1.5 km to the hotel. Residence Sulekova is situated right by the Sulekova trolleybus stop.
If you're planning to come by car, arrange with us to park your car by the hotel.
After crossing the SNP bridge, continue along Staroměstská ulica. After almost a kilometre, turn left at the intersection into Palisády ulica and then take a right into Sulekova. You'll find the hotel around 290 metres along on the right⁠-⁠hand side.
If you're arriving from the D2 motorway, continue along road No. 572 to Štefánikova ulica. Continue along Štefánikova and then turn right into Palisády ulica.
Bratislava main railway station is around 1.5 km from the hotel. Take tram No. 93 to Hodžovo náměstí. Cross the four⁠-⁠lane road and board trolleybus No. 208, which stops in front of the Presidential Palace. Get off at Sulekova, the last stop. It's a 20⁠-⁠metre walk to the hotel.
M.R. Štefánik Airport in Bratislava is around 12 km from the hotel. Take bus No. 61 and change to trolleybus No. 212 (in the direction of Vojenská nemocnica) at the Zimný štadión stop. Get off at Hodžovo námestie stop, take trolleybus No. 208 and take it all the way to the last stop, Sulekova ulica. It's around 20 metres from there to the hotel.
We'll also be happy to arrange a limo ride to the hotel (€24).